M.D.M.I.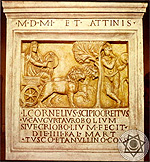 The initials of the Latin phrase Mater Deum Magna Idaea, one of the most famous cult titles of
Kybele
, which can be found throughout the ancient world. The phrase means "Great Mother of the Gods from Ida". Mount Ida in Anatolia (specifically in Phrygia near Troy) was
Kybele's
homeland. This cipher was used by
Madimi
for her name in her interactions with John Dee.