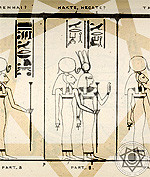 The secret Egyptian Goddess of
Magick
was
Hekat
, who was openly known by Her name Pakhet. In the Egyptian language the addition of the suffix –t to the base "
Heka
" indicates a female name, or in this case a Goddess name. Other examples of this suffix are Aset (Isis), Pakhet, Maat, Selket,
Nuit
, Sekhmet, Mut, Tanit, and Bastet to name a few. The secret Egyptian Goddess
Hekat
was later known in the Greek language as
Hekate
. See also
Heka
.